Description
Optex Wireless 2000 Driveway Annunciator System
No more surprises!
Wireless driveway annunciator monitors your property 24 hours a day to detect approaching vehicles and people, giving you time to prepare.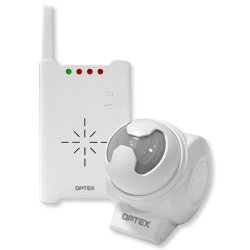 No more missed visitors or deliveries!
Wireless 2000 serves as a welcome chime or perimeter alert for your home or shop.
No more hard to reach switches!
Wireless 2000 works as a convenient wireless switch for activating a variety of electric equipment (e.g. doorstrikes / magnetic locks, lights, sirens, motors).
Simple, automated set-up
Setup is simple! Just two buttons perform all set up functions.
Design Versatility
Specially designed sensor mounts easily on walls, ceilings, fenceposts, desktops, etc.
Weatherproof design of sensor allows outdoor use.
Two detection patterns: 50ft Long Range and 17ft. Fan Pattern
Detection pattern adjusts easily for perfect aiming.
Receivers mount on wall or desktop
Description: RC-20U Chime Box with Relay
Accepts 9 transmitters, identifies each group of three with different chime tone
Operates with 9VDC adapter (included)
Wall mount or table mount design
Form C relay for activating other devices (50V AC 1A max, ot 24V DC 1A max) with adjustable output duration
Description: TD-20U Sensor Transmitter
2000 Ft transmission range (line of sight)
Uses passive infrared to detect motion and send RF signals to receivers
Weather proof housing (IP54 rating) for both indoor and outdoor use
Choose 50ft Long Range or 17ft Fan (wide) detection pattern
Operates on a 9V lithium alkaline battery